Comet 2007 W1 (Boattini)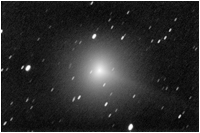 Comet Boattini is decreasing in brightness as he appears in the morning sky for observers in the norther hemisphere. This image was taken at Guidestar observatory on July 19 with the almost full moon 90 degrees away. The coma diameter is approx. 13' large, but due to heavy moonlight and its low altitude the very diffuse coma could also be not completly visible an much larger. The field of view of the image left is 22x15 arcminutes. An ion tail in south-west direction is clearly visible.
The comet now moves slowly through the constellation Aries at a magnitude of 7-8 and heads away from earth and sun, rapidly fading.
Comet Boattini has a long-periodic orbit that takes him around the sun in 63,000 years and the latest calculations show that it may be its first visit to the inner solar system coming from the Oort Cloud.
Comet 17/P Holmes
... surprised astronomers around the world with a spectacular eruption. On October 23 it brightend almost a millionfold from mag 17 to mag 2.5 in just a few hours. The above image was taken on October 31 at Guidestar Observatory through the 14 inch telescope. It shows the inner green coma 17P Holmes Larsen-Sekanina filter and some dark structures near the nucleus. A Larson-Sekanina filter was applied to the luminance channel to bring out the streamers and subtle jets (click on image to enlarge).
Comet Linear 2002T7
Shortly after moonrise on October 17, after completing our astrometric measurements of three minor planets, we were able to shoot some more images of Comet 2002 T7 Linear. This one was discovered on October 14, 2002 by the professional survey LINEAR (Lincoln Near Earth Asteroid Research) at a brightness of mag 17.5. Chances are good that 2002 T7 will become an interesting object at least for binoculars in the spring of 2004 in the morning dawn. Unitl January 2004 it should be well placed for observers in the constellations Triangulum and Pisces. But from February on its visibility from the northern hemisphere will deteriorate. The comet will then set only 3 hours after the sun. On April 23, 2004 the comet reaches perihelion. After that 2002 T7 Linear is only visible from the southern hemisphere. Presently at this writing it reaches a brightness of 11 magnitudes. We try to follow his development till the end of this year - if weather permits.
(68950) 2002 QF15 - Start of our astrometric program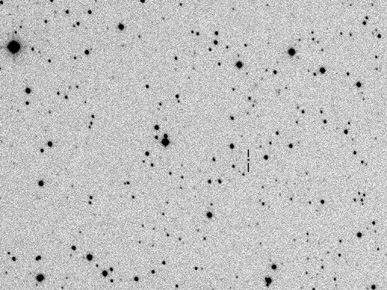 Our first astrometric measurements after receiving IAU Code number A17 were sent to the Minor Planet Center in Cambridge. Target was the numbered object (68950) - an Apollo type minor planet with an approx. size of 1.6 - 3.5 km. During a 2 hour timespan 7 stacked images were taken with the Vixen VC200, reduced and measured with Astrometrica.
 COD A17
 OBS M. Emmerich, S. Melchert
 MEA M. Emmerich, S. Melchert
 NET USNO-B1.0
 TEL 0.2-m Cassegrain f/7,25 + CCD
 
 68950         C2003 09 24.82905 02 32 21.60 +79 28 13.7          16.7 V      A17
 68950         C2003 09 24.84078 02 32 26.10 +79 28 39.1          16.8 V      A17
 68950         C2003 09 24.85169 02 32 30.33 +79 29 01.6          16.5 V      A17
 68950         C2003 09 24.86597 02 32 35.94 +79 29 33.0          16.7 V      A17
 68950         C2003 09 24.87983 02 32 41.31 +79 30 02.3          16.6 V      A17
 68950         C2003 09 24.89547 02 32 47.27 +79 30 35.4          16.5 V      A17
 68950         C2003 09 24.91135 02 32 53.34 +79 31 09.6          16.7 V      A17
 68950         C2003 09 25.82693 02 39 20.79 +80 02 29.5          16.7 V      A17
 68950         C2003 09 25.83973 02 39 26.45 +80 02 56.4          16.7 V      A17
 68950         C2003 09 25.86153 02 39 35.69 +80 03 44.9          16.7 V      A17
 68950         C2003 09 25.87975 02 39 44.31 +80 04 23.3          16.7 V      A17
 ----- end -----