Comet P/2010 H2 developing
A few days after its discovery Comet P/2010 H2 (Vales) is further developing its appearance to a "real" comet. The former asteroidal NEOCP object 04F0011 now shows a nice 2' size coma.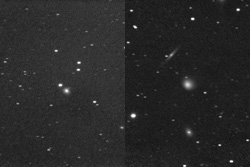 The left image was taken on April 19 and the right on April 22. Both shots were made with the 14 inch telescope and the SBIG ST8-XME camera in 2x2 binning mode. Exposure time was 40 x 30 seconds with no filter. Still there is no real tail but the false nucleus is slightly off center and the coma expands more to the northeast.
Comet Vales has a Hilda like orbit and circles the sun in a distance of 3.06 AU every 7.5 years. Hilda type asteroids have a stable orbit in a 2:3 resonance to Jupiter, which means that they orbit the sun 3 times for every 2 times that Jupiter does. So they stay away from the giant gas planet avoiding dangerous close approaches. But it is very likely that Comet Vales will be kicked out of orbit by Jupiter someday.
Comet 17/P Holmes
... surprised astronomers around the world with a spectacular eruption. On October 23 it brightend almost a millionfold from mag 17 to mag 2.5 in just a few hours. The above image was taken on October 31 at Guidestar Observatory through the 14 inch telescope. It shows the inner green coma and some dark structures near the nucleus. A Larson-Sekanina filter was applied to the luminance channel to bring out the streamers and subtle jets (click on image to enlarge).
Comet P/2010 H2
Comet P/2010 H2 is a somewhat mysterious object. It first appeared on the NEOCP on April 16 as an unusually bright 12 mag discovery with the preliminary designation 04F0011 submitted by the Crni Vrh Observatory. Soon a discussion emerged about the nature of this object on the MPML. Because it could not be found on previous images of the big surveys it was proposed that it might be a comet outburst.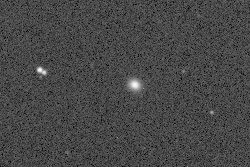 Another indication was the fact that other observers found a slightly elongated FWHM on their images, compared to field stars of the same magnitude.
MPEC 2010-H12
was issued on April 17 by the Minor Planet Center announcing the discovery of a new Comet P/2010 H2 by J. Vales of Crni Vrh (106), Slovenia. Now only one day later our images made with the 14 inch show a well elongated object with a clearly visible coma. It is expected that the new comet will develop a more significant coma in the following weeks.
Richard Kowalski of the Catalina Sky Survey ruled out that the bright object was not detected because of interference with bright field stars in all 4 frames made of the area by the survey. That means that Comet P/2010 H2 brightened in fact by at least 8 magnitudes within a day. That reminds of the massive outburst of
Comet 17/P Holmes
in October 2007.
Comet Linear 2002T7
Shortly after moonrise on October 17, after completing our astrometric measurements of three minor planets, we were able to shoot some more images of Comet 2002 T7 Linear. This one was discovered on October 14, 2002 by the professional survey LINEAR (Lincoln Near Earth Asteroid Research) at a brightness of mag 17.5. Chances are good that 2002 T7 will become an interesting object at least for binoculars in the spring of 2004 in the morning dawn. Unitl January 2004 it should be well placed for observers in the constellations Triangulum and Pisces. But from February on its visibility from the northern hemisphere will deteriorate. The comet will then set only 3 hours after the sun. On April 23, 2004 the comet reaches perihelion. After that 2002 T7 Linear is only visible from the southern hemisphere. Presently at this writing it reaches a brightness of 11 magnitudes. We try to follow his development till the end of this year - if weather permits.
---
Comet C/2009 K5 (McNaught)
April 17 was a beautiful day with absolutely no clouds. The daytime sky was blue maybe a little haze was noticeable but not realy sure if that was caused by the volcanic ash coming from islandic volcano Eyjafjallajoküll.
After sunset the crescent Moon and Venus were a fine sight to see. The first half of the night was dedicated to follow-up work of NEOS K10F81A, K10G07S, K10G24A, K10G30H. For a closer at 3 am I decided to take a peak on Comet McNaught. With a brightness of 9 mag it was moving fast through the rich starfields of the milkyway. A single 30 second exposure showed a 5' large coma and a approx. 9' long tail in PA 120°. So McNaught is heading now to its perihel on April 30. For an animation showing the movement between the stars from 01:03 - 1:26 UT
click here.
( 4 MB large)
---
Comet C/2007 Q3 (Siding Springs)
This comet is further fading in brightness. During mid March a break up was reported by british amateur Nick Howes using the Faulkes Telescope.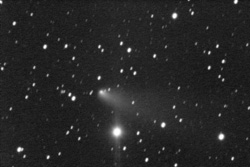 In our image from April 6 the fragment is not visible. The 14 inch telescope in Weinheim/Germany was used to capture this view. Strong winds and a particularly bad seeing of over 4 arcsec FWHM compromised the image. Q3 is moving slowly through the constellation Draco at a magnitude of around 11. The comet is now heading away from the sun to escape the solar system and never come back. Its visit in the inner solar system sent it on an hyperbolic orbit into interstellar space.
During our last "expedition" in February we imaged the comet with an 6 inch f/2.8 flatfield camera when
C/2007 Q3
 showed a nearly 2° long tail.
---
Comet 2007 W1 (Boattini)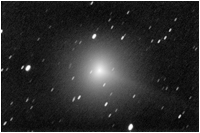 Comet Boattini is decreasing in brightness as he appears in the morning sky for observers in the norther hemisphere. This image was taken at Guidestar observatory on July 19 with the almost full moon 90 degrees away. The coma diameter is approx. 13' large, but due to heavy moonlight and its low altitude the very diffuse coma could also be not completly visible an much larger. The field of view of the image left is 22x15 arcminutes. An ion tail in south-west direction is clearly visible.
The comet now moves slowly through the constellation Aries at a magnitude of 7-8 and heads away from earth and sun, rapidly fading.
Comet Boattini has a long-periodic orbit that takes him around the sun in 63,000 years and the latest calculations show that it may be its first visit to the inner solar system coming from the Oort Cloud.
---